This was a busy week is filled with public interactions from the successful signature campaign, discussion at PU, interview by Junior Vikatan and a workshop at SJIT, Chennai. There was contribution to commons at Pondicherry. This week we have a new book review, article about BSNL invading its users privacy and Kaniyam Foundation's monthly report.
Fruitful discussion at Pondicherry University on 29/01/19
We had organized a discussion at PU regarding the changes in the Intermediaries Guidelines of the IT Act. There were a total of 21 participants in the discussion, with most of them student leaders and activists while two were lawyers.
IT Ministry has heard our call for a free, private & secure Internet
The signature campaign hosted at https://www.fshm.in saw a successful end with the IT Ministry acknowledging the receipt of the open letter signed by 416 people.
Finally tally of signatures when the campaign was closed at 12:30PM on 01/02/19.
The full letter sent to Ministry of Electronics & Information Technology can be read at https://files.fshm.in/s/fATW97zEEjS9GHb
FSFTN signs the joint letter to MEITy
Free Software Foundation Tamil Nadu - FSFTN - along with Free Software Movement Karnataka (FSMK) and Free Software Movement of India (FSMI) signed a joint letter with SFLC.in and other organizations giving their official comments to IT Ministry's request for comments on the draft Intermediaries Guidelines for the IT Act.
You can read the letter at https://sflc.in/joint-letter-meity-addressing-key-issues-draft-il-rules-2018
Junior Vikatan publishes FSFTN's expert opinion on the EVM hacking fiasco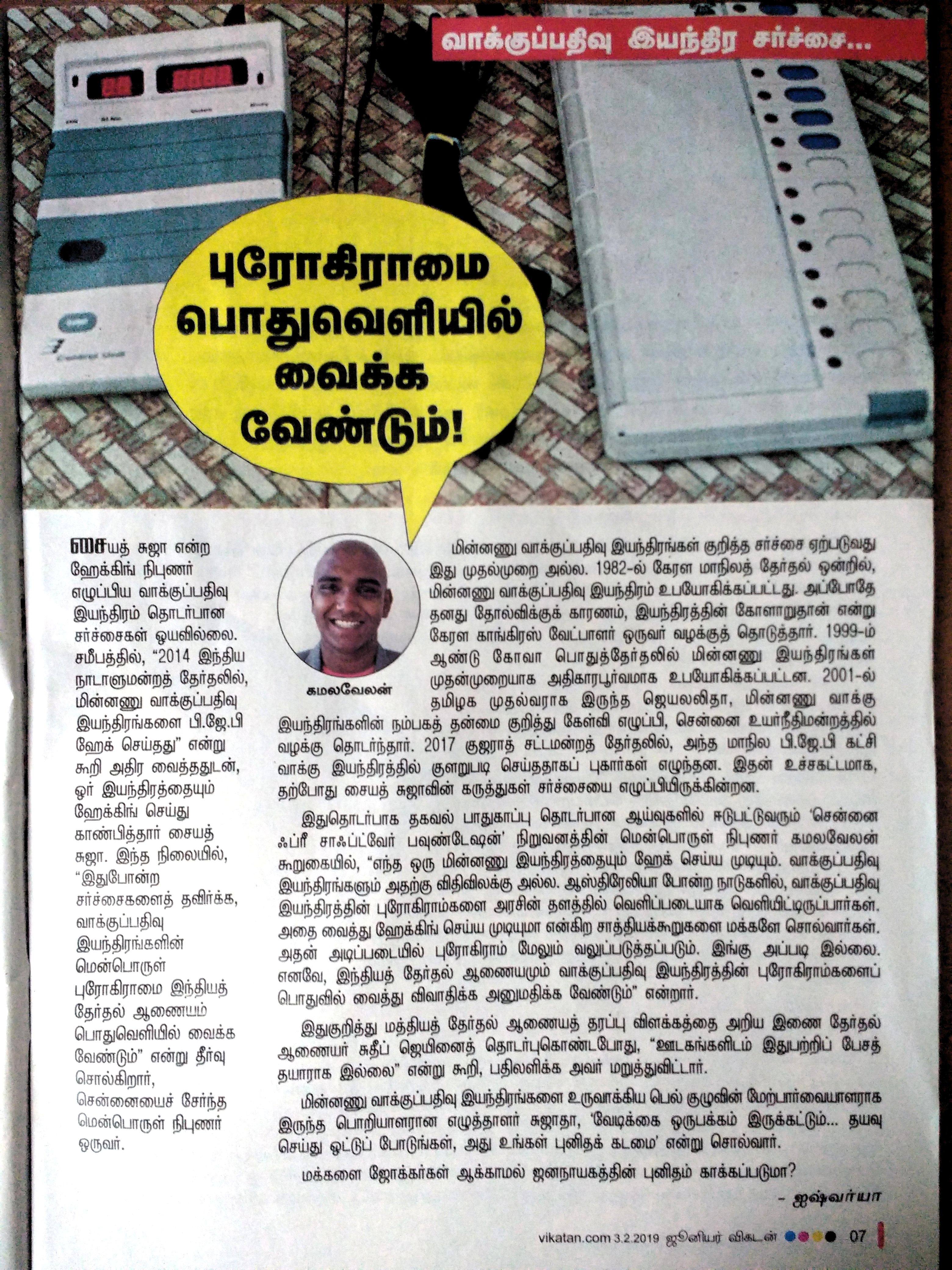 The article was published in Junior Vikatan's 3.2.2019 edition after someone claimed that they had hacked the Electronic Voting Machine used in Indian elections.
Read FSFTN's official comments on the article in Tamil at  https://fsftn.org/blog/evm-fsftn-interview/
New addition to the Pondicherry commons
The full list of commons infrastructure is found at https://wiki.fshm.in/doku.php?id=listoftim
FSFTN workshop at SJIT, Chennai
Session at St Joseph's Institute of Technology for CSE & IT students on
1. Introduction to FOSS
2. Basic GNU/Linux Commands
3. Shell Scripting
Speakers - Rahul & Madhan (Alumni of SJIT)
Book review: Entertaining Electronics
Sarathkumar read the amazing Entertaining Electronics book, written in the soviet period. He writes about his reading experience, take aways and where to download the book in https://blog.fshm.in/entertaining-electronics-br/
BSNL is injecting adware into its users
Sarathkumar writes about what happened when he contact BSNL about the ads.
https://blog.fshm.in/bsnl-adware-injecting-malicious-advertisement-to-its-users/
We know that IRCTC has been selling ads to its users for quite a few years now, it seems BSNL is joining the gang.
Kaniyam Foundation publishes its January 2019 report
Kaniyam Foundation had a great month with atleast 50 contributions to its digital library. You can read the entire report at https://github.com/KaniyamFoundation/Organization/wiki/Kaniyam-Foundation-January-2019-Report
The report also discloses donations and expenditures for the month.